Today I'm combining two posts into one: Gratitude for Spring and Summer (because let's be real, they're basically the same thing in Texas). Here are my top five reasons to love the months of March-September. (Occasionally February-November. Or just the whole year.)
GREEN – Okay, so this only applies to maybe one month out of the year before everything goes back to it's natural dead-brown color, but looking outside the window and just seeing an abundance of bright green covering the trees in my backyard fills me with joy. Even if the pollen does give me allergies and temporarily dye my car green. It's fun to watch everything grow and turn bright colors to remind me of the beautiful things in life.
Long Days – I really, really hate when it gets dark at 5 PM. It makes me feel like the day's over and I still have so much to accomplish. Or like I just want to go to bed. But in the summer, when it stays light until 8 PM, I am in my zone. There is so much more time to do things and see things; the days last so long and it makes me happy to be alive. Not to mention I've spent the past two summers at Disney, and those long hours have given me ample time to explore all the parks to their fullest.
Warm Weather – Okay, so I'm not a fan of 100 degree weather or sweating, but I do like wearing shorts, and not being afraid that I'll get cold every time I leave the house. Is it weird that in the summer I like sitting in the sauna-level heat of my car for a few seconds before I turn the AC on? Yes? That's okay, I know I'm strange. I love seeing the sun, and feeling it's warmth, and if I weren't so dang pale I would probably love hanging out in it and going sunbathing. Sitting by the pool and reading a book is a favorite pastime.
Adventures – Okay, so now that I'm an adult and spring break and summer vacation don't exist anymore this might not be as applicable. However, during my high school and college years, summers were my times of big growth. I went on so many mission trips that grew me both spiritually and culturally. I learned so much about God, and what it is like to touch another culture and be a part of their lives for a week. In my college years I got to do several internships. I worked at my home church for two months and got to watch high school girls grow in their desire to serve the Lord. I got to work at Walt Disney World two summer in a row and make friends who live all across the country, and even got to mentor a couple of girls who were on fire for Jesus. These are all adventures I wouldn't trade for anything, and memories I will never forget (especially because they're about to show up in my time-hop and I'll probably cry when they do).
 Rainstorms – There's nothing like a really great summer rainstorm. I actually can't remember a time in my life when I was afraid of thunder. Since I was a child I've always been the person who loves to curl up in bed with a good book while listening to the sound of rain pattering against my window. And if there's thunder rumbling in the distance, all the better. It's the best weather to sleep to, and the best weather to relax in. Not to mention the best weather to dance in. One of my top five favorite memories is going out and dancing in the rain with my best friend my first summer in Florida. It was pouring in sheets of water and the two of us saw no reason not to run straight out into it and go wild. To this day I can't think of a happier time, or a better thing to do in the rain.
Olaf – Just kidding, but now the song's stuck in your head, hahaha!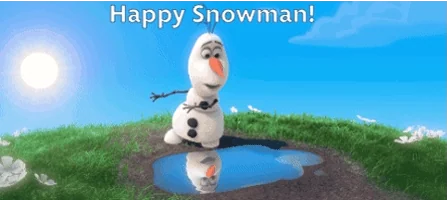 (A couple things that didn't make the list include ice cream, and the Flower and Garden Festival at Epcot, but let's be real I'll probably write a post dedicated to just those two things I love them so much.)