2016 was a crazy whirlwind of a year, I think most of us can agree. I went through several changes, and some really stressful patches – the most stressful of which being graduating from college. That's right, I'm (kind of) a real adult now. I know you're probably thinking that graduating college should be more exciting than stressful, and you're right. However, while graduating college is indeed one of the most exciting times in your life, you also spend the entire year leading up to it answering the question, "What are you doing next?"
The answer I gave out all year: I don't know.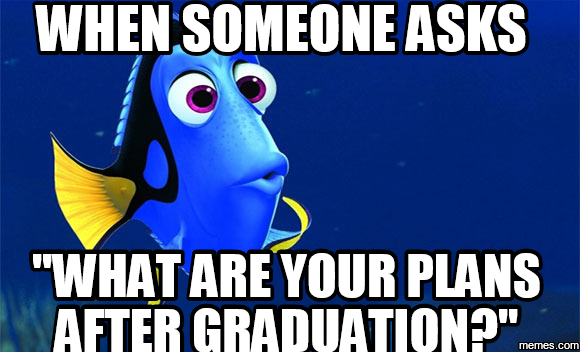 When I was in high school I began to feel God tugging on my heart to become a missionary. When I graduated and moved on to college, I felt this confirmed by a number of things including my time on various mission trips, and the love I had for serving people from different cultural backgrounds. I was certain that my future was set in stone, and that I would become a missionary immediately after I graduated college – that is up until the Fall of 2015.
The Summer of 2015 I participated in a mission trip at Walt Disney World. I had never before experienced ministry in the workplace, or thought of a job in America being my mission field. I fell in love with what I was doing there, and didn't even recognize it until I got back to Texas. In short, if you had asked me if you had asked me my sophomore year of college what I was doing after graduation, you would have gotten a much more clear answer than you would've gotten the week before my graduation. My time at Disney taught me that living a Christ-centered life does not necessarily mean having a full time job in ministry. Yes, involvement in the church is important, and yes sending missionaries to other cultures is an important part of Christianity, however I now think God may be calling me to do something else than what I thought He was preparing me for.
I know God has gifted me in many ways. He has given me empathy, and a love for being there for other people. He has given me a great trust in Him for my future, knowing that He will take care of me even if I don't have it all worked out. But I think the biggest lie society tells us is that we have to know exactly what we're doing when we leave college. That leaves us very little room to pursue the growth that God may not be finished with yet.
Since I have graduated college I have begun a job at a hotel neat where I grew up. Again – this was probably pretty low on the list of jobs I would've thought I'd be in my sophomore year of college. But this is where God has placed me for now. I'm learning new skills, meeting new people, and getting settled into my adult life with support of my parents and my home community. I still don't know where I'm going next, but I know I'm where God wants me for now.
So  where do I see myself in twenty years, or even five years? I don't know. And I don't have to. I could be still working in hospitality, I could be a stay at home mom, or I could be in another country fulfilling my dream of being a missionary. All I know is that through all of it, I will be serving Christ. I will be using the empathy and love God has given me to invite the people around me into a relationship with Him. If I am doing that, I know I will be successful in living with a purpose, no matter where I am.
As I begin my first year of official adulthood I have thought hard about where I want to grow, so starting later this week I will begin a blog series on gratitude. Thankfulness is something I lost sight of over my last semester of college between stressing over classes, moving, job hunting, and friend transitions. I want to start 2017 off with a positive attitude on life, and gratitude is where I'm starting. I'm looking forward to my growth and hope you'll join me on this journey of gratitude.